29
Jun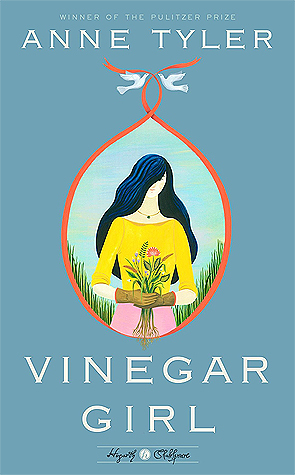 Vinegar Girl
Fiction
Hogarth
2016
Hardcover
237
Blogging for Books
From the dust jacket:
"Kate Battista feels stuck. How did she end up running house and home for her eccentric scientist father and uppity, pretty younger sister, Bunny? Plus, she's always in trouble at work- her preschool charges adore her, but their parents don't always appreciate her unusual opinions and forthright manner.
Dr. Battista has his own problems. After years in the academic wilderness, he is on the verge of a breakthrough. His research could help millions. There's only one problem: his brilliant young lab assistant, Pyotr, is about to be deported. And without Pyotr, all would be lost.
When Dr. Battista cooks up an outrageous plan that will enable Pyotr to stay in the country, he's relying- as usual- on Kate to help him. Kate is furious: this time he's really asking too much. But will she be able to resist the two men's touchingly ludicrous campaign to bring her around?"
The Vinegar Girl is presented as a modern re-telling of Shakespeare's Taming of the Shrew. However, I feel like calling Kate a Shrew, or even implying that she is a "Vinegar Girl" as Pyotr calls her, is not a fair assessment of her character.
To me, Kate is a strong, independent woman who has had to take care of an absent-minded father and a spoiled, bratty little sister. She is direct and rebels against being taken advantage of, all of which, in my opinion, are good character traits. Yes, she has issues at work, but that is simply because she is direct, not shrewish.
Kate's father and sister, on the other hand, are both self-absorbed and selfish in my opinion. They have gotten so used to Kate taking care of things and getting their own way, that they take her for granted. Pyotr, while seeming oblivious initially, ends up being the one person who ultimately champions Kate, pushing her to pursue her own dreams.
Both Kate and Pyotr are flawed characters, which makes them ultimately a much more realistic couple that you find in most stories. Pyotr is neither handsome or wealthy, he is a socially awkward scientist with a language barrier. Kate is not classically beautiful and tends to be a loner. Each is eccentric and different, but in the end, they are perfect for each other.
Disclaimer: I received a copy of this book from Blogging for Books and Penguin Random House in exchange for an honest review. All thoughts and opinions are my own.