One of the newer memes that I found and fell in love with is Down the TBR Hole by Lost in a Love Story. I found this meme featured on Bursting with Books and had never seen anything like it, but I loved the concept. Essentially you go through your Goodreads TBR shelf and take another look at the books that have been hanging out there for a while. You then determine whether you want to keep the book on your TBR or remove it.
Go to your goodreads to-read shelf.
Order on ascending date added.
Take the first 5 (or 10 if you're feeling adventurous) books
Read the synopses of the books
Decide: keep it or should it go?
Here are this week's selections:
Uncertainty by Jonathan Fields
Nonfiction; Self Help
Added January 19, 2012
The influential blogger and author of Career Renegade counsels readers on how to navigate inevitable insecurities that mark a creative career, explaining how to understand fear and uncertainty in order to render them powerful forces for creative success rather than sources of anxiety and failure.
Verdict: Remove
Poet's Choice by Edward Hirsch
Nonfiction; Writing; Poetry
Added January 19, 2012
Edward Hirsch began writing a column called "Poet's Choice" in the Washington Post Book World in 2002. This book brings together those enormously popular columns, some of which have been revised and expanded, to present a minicourse in world poetry. Poet's Choice includes the work of more than one hundred poets from ancient times to the present—among them Sappho, W. B. Yeats, Czeslaw Milosz, Primo Levi, Robert Frost, Pablo Neruda, Amy Lowell, Mark Strand, and many more—and shares them with all of Hirsch's inimitable enthusiasm and joy. Rich, relevant, and inviting, the book offers us the fruits of a life lived in poetry.
Verdict: Remove
Plenty by Alisa Smith & JB MacKinnon
Nonfiction; Food; Memoir
Added January 19, 2012
Like many great adventures, the 100-mile diet began with a memorable feast. Stranded in their off-the-grid summer cottage in the Canadian wilderness with unexpected guests, Alisa Smith and J.B. MacKinnon turned to the land around them. They caught a trout, picked mushrooms, and mulled apples from an abandoned orchard with rose hips in wine. The meal was truly satisfying; every ingredient had a story, a direct line they could trace from the soil to their forks. The experience raised a question: Was it possible to eat this way in their everyday lives?
Verdict: Remove
Where We Belong by Emily Giffin
Fiction; Chick Lit; Romance
Added January 19, 2012
Marian Caldwell is a thirty-six year old television producer, living her dream in New York City. With a fulfilling career and satisfying relationship, she has convinced everyone, including herself, that her life is just as she wants it to be. But one night, Marian answers a knock on the door . . . only to find Kirby Rose, an eighteen-year-old girl with a key to a past that Marian thought she had sealed off forever. From the moment Kirby appears on her doorstep, Marian's perfectly constructed world—and her very identity—will be shaken to its core, resurrecting ghosts and memories of a passionate young love affair that threaten everything that has come to define her.

For the precocious and determined Kirby, the encounter will spur a process of discovery that ushers her across the threshold of adulthood, forcing her to re-evaluate her family and future in a wise and bittersweet light. As the two women embark on a journey to find the one thing missing in their lives, each will come to recognize that where we belong is often where we least expect to find ourselves—a place that we may have willed ourselves to forget, but that the heart remembers forever.
Verdict: Remove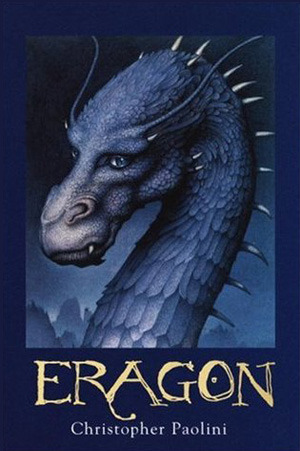 Eragon by Christopher Paolini
Fiction; Young Adult; Fantasy
Added January 19, 2012
One boy. One dragon. A world of adventure.
When Eragon finds a polished blue stone in the forest, he thinks it is the lucky discovery of a poor farm boy; perhaps it will buy his family meat for the winter. But when the stone brings a dragon hatchling, Eragon realizes he has stumbled upon a legacy nearly as old as the Empire itself.

Overnight his simple life is shattered, and he is thrust into a perilous new world of destiny, magic, and power. With only an ancient sword and the advice of an old storyteller for guidance, Eragon and the fledgling dragon must navigate the dangerous terrain and dark enemies of an Empire ruled by a king whose evil knows no bounds.

Can Eragon take up the mantle of the legendary Dragon Riders? The fate of the Empire may rest in his hands.
Verdict: Keep
Another good week with 4/5 removed. Running total now 39/60.
**All covers link to Goodreads; all titles link to Amazon {affiliate}