In mid-2017 I was inspired by a post on Bursting with Books to start tackling my TBR shelf on Goodreads and see if these were books I still wanted to read. The title and premise come from Lost in a Love Story. I eliminated quite a few books, but still have a massive TBR of over 2500 books. This year I'll be tackling 10 books per week to determine if I am still interested and want to keep them, or if I'm ready to remove them from the list.
How does it work?
Go to your Goodreads to-read shelf.
Order on ascending date added.
Take the first 5 (or 10 if you're feeling adventurous) books
Read the synopses of the books
Decide: keep it or should it go?
This week's selections: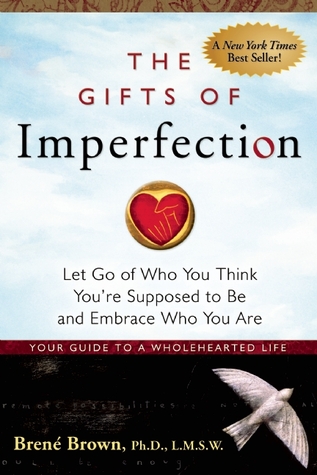 The Gifts of Imperfection by Brene Brown
Nonfiction; Self Help
Added March 21, 2012
New York Times best-selling author and professor Brené Brown offers a powerful and inspiring book that explores how to cultivate the courage, compassion, and connection to embrace your imperfections and to recognize that you are enough.

Each day we face a barrage of images and messages from society and the media telling us who, what, and how we should be. We are led to believe that if we could only look perfect and lead perfect lives, we'd no longer feel inadequate. So most of us perform, please, and perfect, all the while thinking, What if I can't keep all of these balls in the air? Why isn't everyone else working harder and living up to my expectations? What will people think if I fail or give up? When can I stop proving myself?In The Gifts of Imperfection, Bren頂rown, PhD, a leading expert on shame, authenticity and belonging, shares what she's learned from a decade of research on the power of Wholehearted Living–a way of engaging with the world from a place of worthiness.In her ten guideposts, Brown engages our minds, hearts, and spirits as she explores how we can cultivate the courage, compassion, and connection to wake up in the morning and think, No matter what gets done and how much is left undone, I am enough, and to go to bed at night thinking, Yes, I am sometimes afraid, but I am also brave. And, yes, I am imperfect and vulnerable, but that doesn't change the truth that I am worthy of love and belonging.
Verdict: Keep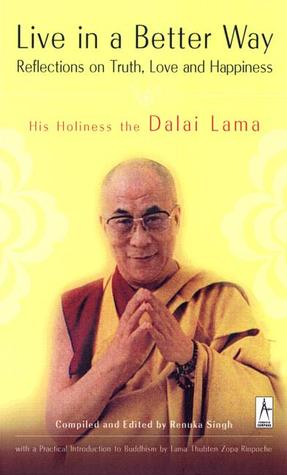 Live a Better Way by Dalai Lama
Nonfiction; Spirituality
Added March 21, 2012
Imbued with a friendly tone and pithy wisdom, this handsome handbook to approaching life "in a better way" includes six of His Holiness The Dalai Lama's most accessible and inspirational public lectures. Following each talk are the original question-and-answer sessions in which His Holiness opens himself up to his listeners and-now-to readers everywhere. His characteristically candid guidance on living fully and responsibly, especially at the start of a new millennium, focuses on specific themes that range from religious tolerance to compassion and nonviolence. The book also includes a practical and highly readable introduction to Buddhism and The Dalai Lama's own spiritual heritage, written by the renowned Lama Thubten Zopa Rinpoche.
Verdict: Remove
Meet Me at the Cupcake Cafe by Jenny Colgan
Fiction; Romance; Chick Lit
Added March 21, 2012
Issy Randall can bake. No, more than that – Issy can create stunning, mouth-wateringly divine cakes. After a childhood spent in her beloved Grampa Joe's bakery she has undoubtedly inherited his talent. So when she's made redundant from her safe but dull City job, Issy decides to seize the moment and open up her own cafe.
Verdict: Remove
Peace is Every Breath by Thich Nhat Hanh
Nonfiction; Spirituality
Added March 21, 2012
In this much-anticipated follow-up to his bestselling classic, Peace Is Every Step, Thich Nhat Hanh—one of the most revered spiritual leaders in the world today—offers an insightful guide to living a fuller life. In this deeply insightful meditation, the world-renowned Vietnamese Zen Buddhist master, poet, scholar, and peace activist illuminates how each of us can incorporate the practice of mindfulness into our every waking moment. In the tradition of The Art of Happiness and Living Buddha, Living Christ, Thich Nhat Hanh's Peace Is Every Breath opens a pathway to greater spiritual fulfillment through its patient examination of how we live our lives.
Verdict: Remove
Toujours Provence by Peter Mayle
Nonfiction; Travel; Memoir
Added March 21, 2012
Taking up where his beloved A Year in Provence leaves off, Peter Mayle offers us another funny, beautifully (and deliciously) evocative book about life in Provence. With tales only one who lives there could know—of finding gold coins while digging in the garden, of indulging in sumptuous feasts at truck stops—and with characters introduced with great affection and wit—the gendarme fallen from grace, the summer visitors ever trying the patience of even the most genial Provençaux, the straightforward dog "Boy"—Toujours Provence is a heart-warming portrait of a place where, if you can't quite "get away from it all," you can surely have a very good time trying.
Verdict: Keep
When in Doubt, Add Butter by Beth Harbison
Fiction; Chick Lit
Added March 21, 2012
As far as Gemma is concerned, her days of dating are over. In fact, it's her job to cater other people's dates, and that's just fine by her.At thirty-seven, she has her own business, working as a private chef, and her life feels full and secure. She's got six steady clients that keep her hands full.

There's Lex, the fussy but fabulous department store owner who loves Oysters Rockefeller and 1950s comfort food; Willa, who needs to lose weight under doctor's orders but still believes butter makes everything better; a colorful family who may or may not be part of the Russian mob; an uberwealthy Georgetown family; the picture-perfect Van Houghtens, whose matriarch is "allergic to everything"; and finally, a man she calls "Mr. Tuesday," whom she has never met but who she is strangely drawn to.

For Gemma, cooking is predictable. Recipes are certain. Use good ingredients, follow the directions, and you are assured success. Life, on the other hand, is full of variables. So when Gemma's takes an unexpected turn on a road she always thought was straight and narrow, she must face her past and move on in ways she never would have imagined. Because sometimes in life, all you need is a little hope, a lot of courage, and—oh yes—butter.
Verdict: Keep
If You Were Here by Jen Lancaster
Fiction; Chick Lit
Added March 21, 2012
If You Were Here follows Amish-zombie-teen- romance author Mia and her husband Mac (and their pets) through the alternately frustrating, exciting, terrifying-but always funny-process of buying and renovating their first home in the Chicago suburbs that John hughes's movies made famous. Along their harrowing renovation journey, Mia and Mac get caught up in various wars with the homeowners' association, meet some less-than-friendly neighbors, and are joined by a hilarious cast of supporting characters, including a celebutard ex- landlady. As they struggle to adapt to their new surroundings- with Mac taking on the renovations himself- Mia and Mac will discover if their marriage is strong enough to survive months of DIY renovations.
Verdict: Keep
Keeping the Castle by Patrice Kindl
Fiction; Young Adult; Historical
Added March 21, 2012
Seventeen-year-old Althea is the sole support of her entire family, and she must marry well. But there are few wealthy suitors–or suitors of any kind–in their small Yorkshire town of Lesser Hoo. Then, the young and attractive (and very rich) Lord Boring arrives, and Althea sets her plans in motion. There's only one problem; his friend and business manager Mr. Fredericks keeps getting in the way. And, as it turns out, Fredericks has his own set of plans
Verdict: Remove
Make a Scene by Jordan E Rosenfeld
Nonfiction; Writing
Added March 31, 2012
Scenes are useful fictional units, and if a single unit falters, then an entire novel or short story can be weakened. This title explains the fundamentals of strong scene construction and how other useful fiction-writing techniques, such as character development, description, and transitions must function within the framework of individual scenes.
Verdict: Remove
Meet Me in the Mountains by Candy Marie Bridges
Nonfiction; Memoir
Added March 31, 2012
She was named Candy Cotten. When people said her name backwards, it made them smile. Candy's inspirational memoir exposes an emotional life story. She welcomes you to enter into her life through the pages of Meet Me In The Mountains. From her parents divorce when she was a child to the wrongful death of her husband after twenty-three years of marriage, an explosion of heart felt, brutally honest, thought provoking stories will challenge you to find faith, inspiration and hope when life is unfair. You may be prompted through the pages of her book to question your own paths in life. Known and unknown paths from where you have been and where you are now, and where you might be in your future. If you are struggling with finding hope through one or more tragic events, Candy's story just might change your perspective and outlook on life.
Verdict: Remove
This week's stats: 4 Kept; 6 Removed
2018 stats: 4 Kept; 6 Removed
**All Covers link to Goodreads; all titles link to Amazon {affiliate}