In mid-2017 I was inspired by a post on Bursting with Books to start tackling my TBR shelf on Goodreads and see if these were books I still wanted to read. The title and premise come from Lost in a Love Story. I eliminated quite a few books, but still have a massive TBR of over 2500 books. This year I'll be tackling 10 books per week to determine if I am still interested and want to keep them, or if I'm ready to remove them from the list.
How does it work?
Go to your Goodreads to-read shelf.
Order on ascending date added.
Take the first 5 (or 10 if you're feeling adventurous) books
Read the synopses of the books
Decide: keep it or should it go?
This week's selections:
Single in the City by Michele Gorman
Fiction; Romance; Chick Lit
Added March 31, 2012
To think Hannah ever believed that Americans differed from Brits mainly in pronunciation, sophistication and dentistry. That's been the understatement of a lifetime. She lands upon England's gentle shores with no job, no friends and no idea how she's supposed to build the life she's dreaming of. Armed with little more than her enthusiasm, she charges headlong into London, baffling the locals in her pursuit of a new life, new love and sense of herself.
Verdict: Keep
Unclutter Your Life in One Week by Erin Rooney Doland
Nonfiction; Self Help; Reference
Added April 13, 2012
Are you constantly late to the office because you have trouble getting out the door in the morning? Is your house in such disarray that you can't have friends over for dinner? It's easy to feel stressed, anxious, and overwhelmed when your surroundings, schedule, and thoughts are chaotic. The solution? "Unclutter Your Life in One Week" with organization expert and Editor-in-Chief of Unclutterer.com Erin Rooney Doland. This essential manual is a simple, day-by-day plan for purging your life of clutter, becoming more efficient and productive, and creating a symbiotic relationship between your work and personal life.

There is no one-size-fits-all answer for organization. Erin offers useful and innovative suggestions for tackling the physical, mental, and systemic distractions in different areas of your home and office each day. Her down-to-earth approach will help you part with sentimental clutter, organize your closet based on how you process information, build an effective and personalized filing system, avoid the procrastination that often hinders the process, and much more. Once you cure the clutter, she shares practical advice for maintaining your harmonious home and work environments with minimal daily effort.
Verdict: Remove
Stardust by Carla Stewart
Fiction; Chick Lit; Historical
Added April 13, 2012
Shortly after burying her unfaithful husband, Georgia Peyton unexpectedly inherits the derelict Stardust motel from a distant relative. Despite doubts from the community and the aunt who raised her, she is determined to breathe new life into it. But the guests who arrive aren't what Georgia expects: Her gin-loving mother-in-law; her dead husband's mistress; an attractive but down-on-his-luck drifter who's tired of the endless road; and an aging Vaudeville entertainer with a disturbing link to Georgia's past.

Can Georgia find the courage to forgive those who've betrayed her, the grace to shelter those who need her, and the moxy to face the future? And will her dream of a new life under the flickering neon of the Stardust ever come true?
Verdict: Remove
Texas! Chase by Sandra Brown
Fiction; Romance
Added April 13, 2012
Set against the background of the rough-and-tumble Texas oil business, a contemporary love story combining gritty and colorful characters with exciting and sensual romance.
Verdict: Remove
The Cottage at Glass Beach by Heather Barbiere
Fiction; Chick Lit; Romance
Added April 13, 2012
Heather Barbieri follows her acclaimed Gaelic-tinged drama The Lace Makers of Glenmara with the resonant tale of a woman who, in the wake of scandal, flees to a remote Maine island to reconnect with her past—and to come to terms with the childhood tragedy that has haunted her for a lifetime.

Set on the rugged New England coast, Barbieri's The Cottage at Glass Beach strikes the perfect balance between high lit and mainstream women's fiction, infusing a potent and unforgettable love story with unforgettable characters that will remain with you long after the final chapter. Richly evocative, Barbieri's narrative of intimacy, struggle, and redemption will call out to readers of Joanne Harris, Alice Hoffman, and other modern masters of drama.
Verdict: Remove
Blogging for Bliss by Tara Frey
Nonfiction; Writing
Added April 22, 2012
Today's crafting community is online, connected, and blissfully blogging about their work and ideas. Blogging is hot in this highly creative world—and here is the only how-to book aimed directly at them. Everyone from knitters and beaders to scrapbookers and altered artists will find the practical information and visual inspiration they need to create an artful online journal.

Thanks to hundreds of gorgeous screen grabs from the very best blogs, a thorough introduction to the tools of the trade, and instructions that virtually take you by the hand, even beginners will swiftly go from blank screen to colorful, enticing pages. Those who already have a blog, but want to enhance their presence on the Web, will learn how to add banners and graphics, take the perfect shots, crop and size photos, establish links, and attract an audience of eager readers.
Verdict: Remove
My So-Called Freelance Life by Michelle Goodman
Nonfiction; Writing; Reference
Added April 22, 2012
Tired of clocking in and losing out? Want to pursue creative, fulfilling work on your own time and also make a living in the process? My So-Called Freelance Life is a how-to guidebook for women who want to avoid the daily grind and turn their freelance dreams into reality. Michelle Goodman, author of The Anti 9-to-5 Guide and self-proclaimed former "wage slave," offers tips, advice, how-to's, and everything else a woman needs to pursue a freelance career.

Confused as to whether you should tell your clients that the odd gurgling sound during a conference call is emanating from the infant sleeping on your shoulder? Goodman answers all of the unusual questions that may arise for women exploring the freelance world. Far more than your normal business guidebook, My So-Called Freelance Life blends candid, humorous anecdotes from a wide variety of freelancers with Goodman's own personal experiences as a creative worker for hire.
Verdict: Remove
The Boss of You by Emira Mears and Lauren Bacon
Nonfiction; Reference; Business
Added April 22, 2012
Female entrepreneurs are a growing force to be reckoned with. Each year, more and more women take the initiative and start their own business ventures—at twice the rate of men. Women continue to reshape the business world with innovative models, both large and small. So why is there a lack of clear-cut, expert advice aimed at this dynamic female audience?

In The Boss of You, Emira Mears and Lauren Bacon, founders of Raised Eyebrow Web Studios Inc. and co-editors of the well-known webzine Soapboxgirls, set out to answer this question. As intelligent entrepreneurs and straightforward writers, Emira and Lauren offer insight into beginning—and sustaining—small businesses from the female perspective. Peppered with stories from women who have been there, from cautionary tales to success stories, The Boss of You provides readers with real advice and career options that will allow them to live their values and achieve their own version of work-life balance.
Verdict: Remove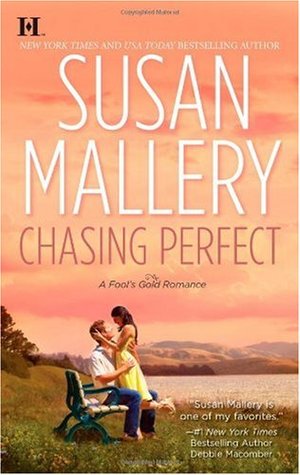 Chasing Perfect by Susan Mallery
Fiction; Romance
Added April 22, 2012
Welcome to Fool's Gold, California, a charming community in the foothills of the Sierra Nevada. There's lots to do and plenty of people to meet, especially women. Because there's just one tiny problem in Fool's Gold: the men don't seem to stick around. Maybe it's the lure of big-city life, or maybe it's plain old bad luck, but regardless of the reason, the problem has to be fixed, fast. And Charity Jones may be just the city planner to do it.

Charity's nomadic childhood has left her itching to settle down, and she immediately falls in love with all the storybook town has to offer — everything, that is, except its sexiest and most famous resident, former world-class cyclist Josh Golden. With her long list of romantic disasters, she's not about to take a chance on another bad boy, even if everyone else thinks he's perfect just the way he is. But maybe that's just what he needs — someone who knows the value of his flaws. Someone who knows that he's just chasing perfect.
Verdict: Keep
These Girls by Sarah Pekkanen
Fiction; Chick Lit
Added April 22, 2012
Cate, Renee, and Abby have come to New York for very different reasons, and in a bustling city of millions, they are linked together through circumstance and chance.

Cate has just been named the features editor of Gloss, a high-end lifestyle magazine. It's a professional coup, but her new job comes with more complications than Cate ever anticipated.

Cate's roommate Renee will do anything to nab the plum job of beauty editor at Gloss. But snide comments about Renee's weight send her into an emotional tailspin. Soon she is taking black market diet pills—despite the racing heartbeat and trembling hands that signal she's heading for real danger.

Then there's Abby, whom they take in as a third roommate. Once a joyful graduate student working as a nanny part time, she abruptly fled a seemingly happy life in the D.C. suburbs. No one knows what shattered Abby—or why she left everything she once loved behind.
Verdict: Keep
This week's stats: Keep 3; Remove 7
2018 stats: Keep 8; Remove13
**all covers link to Goodreads; all titles link to Amazon {affiliate}