In mid-2017 I was inspired by a post on Bursting with Books to start tackling my TBR shelf on Goodreads and see if these were books I still wanted to read. The title and premise come from Lost in a Love Story. I eliminated quite a few books, but still have a massive TBR of over 2500 books. This year I'll be tackling 10 books per week to determine if I am still interested and want to keep them, or if I'm ready to remove them from the list.
How does it work?
Go to your Goodreads to-read shelf.
Order on ascending date added.
Take the first 5 (or 10 if you're feeling adventurous) books
Read the synopses of the books
Decide: keep it or should it go?
This week's selections:
Moving Target by Elizabeth Lowell
Fiction; Romantic Suspense
Added June 1, 2012
The troubling message from Serena Charters's late grandmother appears in a package containing four pages of a centuries-old illuminated manuscript — a strange inheritance that hides many secrets…and has already cost many lives. Seeking answers, Serena turns to Erik North of Rarities Unlimited, a reclusive manuscript appraiser with a passion for the past. Without warning, they are thrust together into the center of a lethal firestorm that rages between two worlds — one long dead, yet living on in an ancient text, the other chillingly alive and fraught with peril. In the blink of an eye, Serena and Erik have become targets of an unseen and determined stalker as they get closer to shocking revelations about Serena's legacy, the cold murder of an eccentric old woman in the heat of the Mojave Desert…and just how far a remorseless killer is willing to go. And now their only slim hope of survival is to keep moving.
Verdict: Keep
Last Summer by Holly Chamberlin
Fiction; Chick Lit
Added June 1, 2012
The town of Yorktide, close to Maine's beautiful beaches and the city of Portland, seems like the perfect place to raise a family. For Jane Patterson, there's another advantage: her best friend, Frannie Giroux, lives next door, and their teenaged daughters, Rosie and Meg, are inseparable. But in the girls' freshman year of high school, everything changes.

Jane always felt lucky that she was able to work from home, to be there to nurture and protect Rosie. But has she been too protective? Rosie—quiet, shy, and also very pretty—attracts the sneers and slights of a clique of older girls. Over time, the bullying worsens. When Meg betrays their friendship, fearful that she too will be targeted, Rosie suffers an emotional breakdown.

Blaming both Meg and Frannie, Jane tries to help Rosie heal while dealing with her own guilt and anger. In the months that follow, each struggles with the ideas of forgiveness and compassion, of knowing when a friendship has been shattered beyond repair—and when hope can be salvaged, one small moment at a time…
Verdict: Remove
Sweet Talk by Julie Garwood
Fiction; Contemporary; Romantic Suspense
Added June 1, 2012
When FBI agent Grayson Kincaid first encounters Olivia MacKenzie, she makes quite an impression.

The beautiful, tough, young attorney has stumbled into the middle of an FBI sting operation and has reduced it to chaos. Months of surveillance and careful planning down the drain, Kincaid's partner is furious and lets Olivia know that she's ticked off the wrong guy. After all, he's FBI.

Olivia isn't intimidated by his partner's bullying because she's something even scarier . . . she's IRS.

And working for the IRS isn't for the faint of heart. She's on the trail of an elaborate Ponzi scheme, one that threatens to ruin the lives of naive and unsuspecting victims, and one she has personal reasons to be angry about. But after she asks questions of the wrong people, her life is suddenly endangered. She's accustomed to fighting for the underdog but being vulnerable herself is a very different story. Smart enough to know when to call for reinforcements, she contacts Grayson Kincaid.

Together they make an excellent team to fight corruption but Olivia is also fighting the immediate and intense attraction she feels for Agent Kincaid, and that may be a battle she is bound to lose.
Verdict: Keep
Eight Mindful Steps to Happiness by Henepola Gunaratana
Nonfiction; Sprirtuality
Added June 3, 2012
In his classic and engaging style, Bhante Gunaratana delves deeply into the noble eightfold path, the Buddha's most profound teaching on bringing an end to suffering.

With easy-to-understand and specific advice, Eight Mindful Steps to Happiness offers skillful ways to handle anger, find right livelihood, cultivate loving-friendliness, and overcome the mental hindrances that prevent happiness.

Whether you are an experienced meditator or someone who's only just beginning, this gentle and down-to-earth guide will help you bring the heart of the Buddha's teachings into every aspect of your life.
Verdict: Keep
Hand Wash Cold by Karen Maezen Miller
Nonfiction; Spirituality; Memoir
Added June 3, 2012
It's easy to think that meaning, fulfillment, and bliss are "out there," somewhere outside of our daily routine. But in this playful yet profound reflection on awareness, the compelling voice of a contemporary woman reveals the happiness at the bottom of the laundry basket, the love in the kitchen sink, and the peace possible in one's own backyard. Follow Karen Maezen Miller through youthful ambition and self-absorption, beyond a broken marriage, and into the steady calm of a so-called ordinary life. In her hands, household chores and caregiving tasks become opportunities for self-examination, lessons in relationship, and liberating moments of selflessness. With attention, it's the little things — even the unexpected, unpleasant, and unwanted things — that count
Verdict: Remove
Objects of My Affection by Jill Smolinski
Fiction; Chick Lit; Romance
Added June 3, 2012
Lucy Bloom is broke, freshly dumped by her boyfriend, and forced to sell her house to send her nineteen-year-old son to drug rehab. Although she's lost it all, she's determined to start over. So when she's offered a high-paying gig helping clear the clutter from the home of reclusive and eccentric painter Marva Meier Rios, Lucy grabs it. Armed with the organizing expertise she gained while writing her book, Things Are Not People, and fueled by a burning desire to get her life back on track, Lucy rolls up her sleeves to take on the mess that fills every room of Marva's huge home. Lucy soon learns that the real challenge may be taking on Marva, who seems to love the objects in her home too much to let go of any of them.

While trying to stay on course toward a strict deadline—and with an ex-boyfriend back in the picture, a new romance on the scene, and her son's rehab not going as planned—Lucy discovers that Marva isn't just hoarding, she is also hiding a big secret. The two form an unlikely bond, as each learns from the other that there are those things in life we keep, those we need to let go—but it's not always easy to know the difference.
Verdict: Remove
Erotic Deception by Karen Cote'
Fiction; Contemporary; Erotica
Added June 3, 2012
Her brother was dead. He'd practically raised her and stood by her during a miscarriage that left her barren. He'd been the sole person she'd had left in this world. How had Dr. Lily Delaney with a PhD in Psychology missed the psychotic signs of Anthony Capriccio, the Kansas City District Attorney and her ex-fiancé? Now at twenty-nine she was on the run to hide from the impending threats to her own life. But on the road to a safe secluded lake community, Lily crashes into the path of a new dangerous element, literally. One with deep blue eyes who totes a badge and carries a gun. And would their budding relationship be threatened when Lily finds out her own doctor had lied and discovers she really can have children? How would the sheriff take knowing she'd gotten pregnant when she'd already heartily assured him she wasn't?

After his experience as a detective in Kansas City, Missouri, Jet Walker enjoyed his life as sheriff of the quiet lake community, Windom Hills. However, when Lily Delaney literally crashes into his car and life, his world disrupts into chaos. Couldn't the woman do anything normal? Between fighting to protect her and fighting against his growing attraction for her, the previous peace Jet had found was now falling apart. And how could he possibly trust another woman after the trick his ex-wife played in trying to pass off another man's child as his?
Verdict: Keep
Shelter by Frances Greenslade
Fiction; Contemporary
Added June 3, 2012
For sisters Maggie and Jenny growing up in the Pacific mountains in the early 1970s, life felt nearly perfect. Seasons in their tiny rustic home were peppered with wilderness hikes, building shelters from pine boughs and telling stories by the fire with their doting father and beautiful, adventurous mother. But at night, Maggie—a born worrier—would count the freckles on her father's weathered arms, listening for the peal of her mother's laughter in the kitchen, and never stop praying to keep them all safe from harm. Then her worst fears come true: Not long after Maggie's tenth birthday, their father is killed in a logging accident, and a few months later, their mother abruptly drops the girls at a neighbor's house, promising to return. She never does.

With deep compassion and sparkling prose, Frances Greenslade's mesmerizing debut takes us inside the extraordinary strength of these two girls as they are propelled from the quiet, natural freedom in which they were raised to a world they can't begin to fathom. Even as the sisters struggle to understand how their mother could abandon them, they keep alive the hope that she is fighting her way back to the daughters who adore her and who need her so desperately.

Heartwarming and lushly imagined, Shelter celebrates the love between two sisters and the complicated bonds of family. It is an exquisitely written ode to sisters, mothers, daughters, and to a woman's responsibility to herself and those she loves.
Verdict: Remove
The Life List by Chrissy Anderson
Fiction; Romance
Added June 3, 2012
When she was just sixteen, Chrissy Anderson made a life list…

…The outcome is a dream husband, a career to envy, and the kind of best friends every girl wants. Then out of nowhere…an affair. What would you do if you realized the life you created wasn't right for you? You think you know the answer? Think again. Follow Chrissy as she lies and cheats and ultimately learns to tell the truth to herself and those that she loves.

At twenty-eight, Chrissy has been steadily checking off the boxes on her life list as she mocks the style and life choices of everyone around her. She's got it all—or so everyone thinks. Her life begins to fall apart when she unexpectedly meets a much younger man, Leo, who makes her question just how perfect her "perfect life" really is. With the help of her no-nonsense therapist, Dr. Maria, Chrissy learns more about herself than she anticipates. But it isn't until she stares an untimely death in the face that Chrissy is catapulted into an overdue reality check. Only then does she scramble to correct the mistakes of her past…trying to figure out if it's her husband Kurt, her lover Leo, or both that she has to leave behind to make everything right.
Verdict: Remove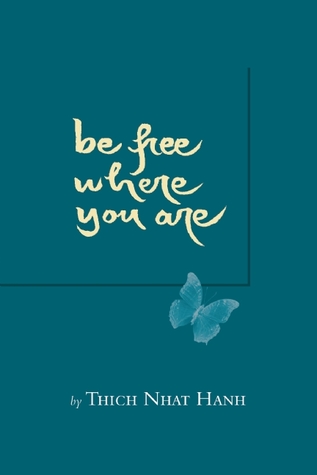 Be Free Where You Are by Thich Nhat Hanh
Nonfiction; Spirituality; Buddhism
Added June 25, 2012
This compendium of the core teachings of Thich Nhat Hanh, based on a talk given at a prison, shows how mindfulness practice can cultivate freedom no matter where you are.

Verdict: Remove
This week's stats: Keep 4; Remove 6
2018 stats: Keep 18; Remove 47
**all covers link to Goodreads; all titles link to Amazon {affiliate}