In mid-2017 I was inspired by a post on Bursting with Books to start tackling my TBR shelf on Goodreads and see if these were books I still wanted to read. The title and premise come from Lost in a Love Story. I eliminated quite a few books, but still have a massive TBR of over 2500 books. This year I'll be tackling 10 books per week to determine if I am still interested and want to keep them, or if I'm ready to remove them from the list.
How does it work?
Go to your Goodreads to-read shelf.
Order on ascending date added.
Take the first 5 (or 10 if you're feeling adventurous) books
Read the synopses of the books
Decide: keep it or should it go?
This week's selections:
Sugar Daddy by Lisa Kleypas
Fiction; Romance; Chick Lit
Added July 2, 2012
SHE'S FROM THE WRONG SIDE OF THE TRACKS
Liberty Jones has dreams and determination that will take her far away from Welcome, Texas—if she can keep her wild heart from ruling her mind. Hardy Cates sees Liberty as completely off-limits. His own ambitions are bigger than Welcome, and Liberty Jones is a complication he doesn't need. But something magical and potent draws them to each other, in a dangerous attraction that is stronger than both of them.

HE'S THE ONE MAN SHE CAN'T HAVE
When Hardy leaves town to pursue his plans, Liberty finds herself alone with a young sister to raise. Soon Liberty finds herself under the spell of a billionaire tycoon—a Sugar Daddy, one might say. But the relationship goes deeper than people think, and Liberty begins to discover secrets about her own family's past.

WILL THEY FIND THEIR HEARTS' DESIRES OR WILL HEARTBREAK TEAR THEM APART?
Two men. One woman. A choice that can make her or break her. A woman you'll root for every step of the way. A love story you'll never forget.
Verdict: Remove
Like Water for Chocolate by Laura Esquivel
Fiction; Romance; Magical Realism
Added July 2, 2012
Earthy, magical, and utterly charming, this tale of family life in turn-of-the-century Mexico became a best-selling phenomenon with its winning blend of poignant romance and bittersweet wit.

The number one bestseller in Mexico and America for almost two years, and subsequently a bestseller around the world, Like Water For Chocolate is a romantic, poignant tale, touched with moments of magic, graphic earthiness, bittersweet wit – and recipes.

A sumptuous feast of a novel, it relates the bizarre history of the all-female De La Garza family. Tita, the youngest daughter of the house, has been forbidden to marry, condemned by Mexican tradition to look after her mother until she dies. But Tita falls in love with Pedro, and he is seduced by the magical food she cooks. In desperation, Pedro marries her sister Rosaura so that he can stay close to her, so that Tita and Pedro are forced to circle each other in unconsummated passion. Only a freakish chain of tragedies, bad luck and fate finally reunite them against all the odds.
Verdict: Remove
A Simple Thing by Kathleen McCleary
Fiction; Contemporary; Chick Lit
Added July 2, 2012
A Simple Thing is a lovely, truly heartwarming novel about the drastic measures two mothers take to keep their families safe. Kathleen McCleary, the critically acclaimed author of House and Home, tells the intertwining stories of Susannah Delaney and Betty Pavalak. Susannah moves her family to remote Sounder Island—a primitive retreat with no electricity—to escape television, the internet, and the dangerous, corrupting influences of the modern technological world. Decades earlier, Betty also came to the island to escape her demons. A Simple Thing is a poignant and unforgettable novel in the vein of Jacqueline Sheehan's Lost and Found and The Art of Saying Goodbye by Ellyn Bache. It is a tale of family and friendship that Kristin Hannah fans will take into their hearts.
Verdict: Remove
Low Pressure by Sandra Brown
Fiction; Romantic Suspense
Added July 2, 2012
Bellamy Lyston Price was only 12 years old when her older sister Susan was killed on a stormy Memorial Day. Bellamy's fear of storms is a legacy of the tornado that destroyed the crime scene as well as her memory of one vital fact that still eludes her…

Now, 18 years later, Bellamy has written a novel based on Susan's murder. It's her first book, and it's an instant sensation. But because the novel is based on the most traumatic event of her life, she's published it under a pseudonym to protect herself and her family.

But when a sleazy reporter for a tabloid newspaper discovers that the book is based on a real crime, Bellamy's identity – and dark family secrets — are exposed. Suddenly, she finds herself embroiled in a personal conflict and at the mercy of her sister's killer, who for almost two decades has gotten away with murder…and will stop at nothing to keep it that way.
Verdict: Remove
The Little Bookstore of Big Stone Gap by Wendy Welch
Nonfiction; Memoir
Added July 2, 2012
A book about losing your place, finding your purpose, and immersing yourself in what holds community, and humanity, together—books

Wendy Welch and her husband had always dreamed of owning a bookstore. When the opportunity to escape a toxic work environment and run to a struggling Virginia coal mining town presented itself, they took it. And took the plunge into starting their dream as well. They chose to ignore the "death of the book," the closing of bookstores across the nation, and the difficult economic environment, and six years later they have carved a bookstore—and a life—out of an Appalachian mountain community.

A story of beating bad odds with grace, ingenuity, good books, and single malt, this memoir chronicles two bibliophiles discovering unlikely ways in which daily living and literature intertwine. Their customers—"Bob the Mad Irishman," "Wee Willie," and "The Lady Who Liked Romances," to name a few—come to the shop looking for the kind of interactive wisdom Kindles don't spark, and they find friendship, community, and the uncommon pleasure of a good book in good company.
Verdict: Keep
The Things I Do For You by Mary Carter
Fiction; Contemporary; Chick Lit
Added July 2, 2012
After years of supporting her husband Brad's generally ill-fated career ventures, Bailey Jordan has a job and a life she loves, working as a high profile real estate agent in Manhattan. Things are wonderful, and she's ready to start a family. Everything changes when Brad is involved in a car crash and dies for thirteen minutes. Previously an agnostic, Brad comes back to life on a mission. Unbeknownst to his wife, he buys a lighthouse on the Hudson River and plans to turn it into a bed and breakfast. Bailey reluctantly joins him, but she's overwhelmed by business stresses, eclectic guests, and strange rumours. And as Brad's behaviour grows increasingly erratic, she must find a way to get him to come back down to earth if their marriage is to survive…
Verdict: Remove
Dead Aim by Iris Johansen
Fiction; Suspense; Thriller
Added July 4, 2012
She witnesses death through the eye of her camera…now a relentless killer is focused on her. A celebrated photojournalist, Alex Graham has recorded some of the most tragic and heartbreaking of stories, but her latest assignment has forced her across a dangerous line. At a dam collapse in Arapahoe Junction, Colorado, Alex witnesses a conspiracy that will shock a nation. For the collapse of the Arapahoe Dam was not an accident. The official story is just a cover-up for a truth so frightening, so unthinkable, anyone who threatens to reveal it must be silenced. Forever. Hr only ally is an ex-convert commando with a checkered past, a price on his head, and a deadly assassin at his heels. What happens when a reporter does more than just report? What happens when she becomes involved in the story? She ends up marked for death by an enemy who never misses, by those who've already got her centred…dead aim.
Verdict: Remove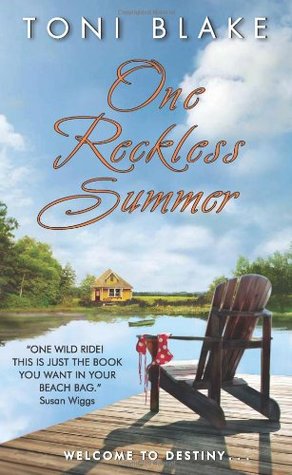 One Reckless Summer by Toni Blake
Fiction; Contemporary Romance
Added July 4, 2012
The perfect daughter. The perfect prom queen. The perfect wife. Jenny Tolliver's been the good girl all her life, and it's gotten her nowhere. Now that her marriage has been busted up by her cheating ex, she's decided it's time to regroup and rediscover herself. This summer she's headed back to her hometown of Destiny, Ohio, to the very lakeshore cottage where she grew up, to figure out what life holds in store for her next.

She never dreamed the answer would be Mick Brody, Destiny's #1 hellraiser. He comes from the wrong side of the tracks (or in his case, the lake), and he's landed in hot water more times than he can count. He's exactly the kind of guy Jenny's always kept her distance from . . . but soon the good girl and the bad boy are caught in a raw heat that's out of control. Too bad Mick's got a secret that threatens to tear them apart and ruin Jenny's perfectly, passionately reckless summer .
Verdict: Remove
Backfire by Catherine Coulter
Fiction; Romantic Suspense
Added July 4, 2012
San Francisco Judge Ramsey Hunt, longtime friend to FBI agents Lacey Sherlock and Dillon Savich, is presiding over the trial of Clive and Cindy Cahill – accused in a string of murders – when the proceedings take a radical turn. Federal prosecutor Mickey O'Rourke, known for his relentless style, becomes suddenly tentative in his opening statement, leading Hunt to suspect he's been threatened – suspicions that are all but confirmed when Hunt is shot in the back.

Savich and Sherlock receive news of the attack as an ominous note is delivered to Savich at the Hoover Building: YOU DESERVE THIS FOR WHAT YOU DID.  Security tapes fail to reveal who delivered the tapes.  Who is behind the shooting of Judge Ramsey Hunt?  Who sent the note to Savich? And what does it all mean?  Savich and Sherlock race to San Francisco to find out…watching their backs all the while.
Verdict: Keep
Reinventing Claire by Darian Wilk
Fiction; Romance; Chick Lit
Added July 6, 2012
People get divorced, but that's what happens to other people. That's what Claire thought anyway, until her husband, Charlie, tells her he wants a divorce.

Claire has no choice but to take on the title of Divorced Woman, and face the question she has no idea how to answer. Who is Claire without Charlie? Her family believes her newly divorced woes can be cured by landing herself a boyfriend. With her dating dunce cap in hand, Claire stumbles her way through the foreign territory of online dating.

A teacher from hell, a softball coach, and a sap later, Claire proclaims herself the dating idiot she thought she was, and fears she's doomed to be a lonely, crazy cat lady. But an accidental run-in with an old acquaintance might change everything. What starts with comparing dating battle wounds over a cup of coffee, quickly turns into something Claire had given up on.

As Claire discovers maybe there is love after Charlie after all, Charlie realizes his mistake. He wants her back, and he'll do anything to prove it to her. Now Claire must choose who deserves her heart, and if she's really willing to give it away again.
Verdict: Remove
This week's stats: Keep 2; Remove 8
2018 stats: Keep 21; Remove 59
**All covers link to Goodreads; all title link to Amazon {affiliate}