In mid-2017 I was inspired by a post on Bursting with Books to start tackling my TBR shelf on Goodreads and see if these were books I still wanted to read. The title and premise come from Lost in a Love Story. I eliminated quite a few books, but still have a massive TBR of over 2500 books. This year I'll be tackling 10 books per week to determine if I am still interested and want to keep them, or if I'm ready to remove them from the list.
How does it work?
Go to your Goodreads to-read shelf.
Order on ascending date added.
Take the first 5 (or 10 if you're feeling adventurous) books
Read the synopses of the books
Decide: keep it or should it go?
This week's selections:
The Renaissance Soul by Margaret Lobenstine
Nonfiction; Self-Help
Added August 10, 2012
How do I decide what to do with my life when there are so many things I want to do?

It is conventional wisdom that there is one true path in life for each of us. But what about those with a wide array of interests, a dynamic curiosity about the world, and an ever-renewing wellspring of passions? Margaret Lobenstine calls these people "Renaissance Souls," and in this groundbreaking book, she offers a life-planning strategy in tune with their dynamic, change-loving personalities. Renaissance Souls often get stuck, moving from entry-level job to entry-level job, degree to degree, or hobby to hobby, unwilling to settle on just one thing to do "for the rest of my life." Or, after achieving success in one field, they yearn for new challenges and begin looking around for something different. Yet they are also afraid that if they pursue their changing interests, they will have to give up on financial security, becoming "a jack of all trades and master of none."

The Renaissance Soul, the first book devoted to this personality type, not only shows that it's possible to design a successful, vibrant life built on multiple passions, but also gives readers the practical advice to do so. Lobenstine arms the reader with powerful life-design strategies, including how to:

*Understand the exciting and powerful difference between choice and focus

*Transform your day job so that it carries your dreams forward

*Manage your time the Renaissance Soul way

*Thrive on many interests without feeling scattered

*Get paid for your passions

*Learn a new field without going back to school

*Get inspired by Renaissance Souls from ancient times to the present, from Leonardo da Vinci to Ben Franklin to Oprah Winfrey

Stocked with creative exercises, relevant resources, and interviews with successful Renaissance Souls, this profoundly inspiring guide will show readers the way to a richer, more fulfilling life—big enough to embrace all their dreams.
Verdict: Keep
Comfort Me With Apples by Ruth Reichl
Nonfiction; Memoir; Food
Added August 10, 2012
In this delightful sequel to her bestseller Tender at the Bone, Ruth Reichl returns with more tales of love, life, and marvelous meals. Comfort Me with Apples picks up Reichl's story in 1978, when she puts down her chef's toque and embarks on a career as a restaurant critic. Her pursuit of good food and good company leads her to New York and China, France and Los Angeles, and her stories of cooking and dining with world-famous chefs range from the madcap to the sublime. Throughout it all, Reichl makes each and every course a hilarious and instructive occasion for novices and experts alike. She shares some of her favorite recipes, while also sharing the intimacies of her personal life in a style so honest and warm that readers will feel they are enjoying a conversation over a meal with a friend.
Verdict: Remove
How to Meditate by Kathleen McDonald
Nonfiction; Spirituality; Buddhism
Added August 12, 2012
What is meditation? Why practice it? Which techniques are best? How do I do it? The answers to these often-asked questions are contained in this down-to-earth book, making it of enormous value for anyone who wishes to begin and maintain a meditation practice. Written by a Western Buddhist nun with solid experience in both the practice and teaching of meditation, How to Meditate contains a wealth of practical advice on a variety of authentic techniques, from what to do with our minds, to how to sit, to visualizations and other traditional practices. Best of all, McDonald's approach is warm and encouraging. The next best thing to personal instruction!
Verdict: Keep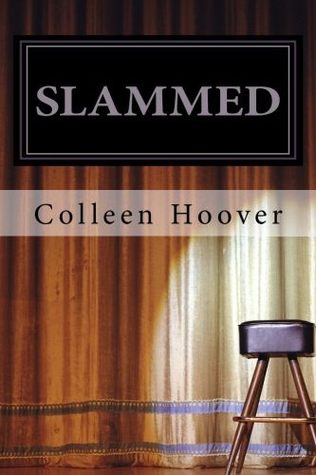 Slammed by Colleen Hoover
Fiction; Young Adult; Contemporary
Added August 12, 2012
Following the unexpected death of her father, 18-year-old Layken is forced to be the rock for both her mother and younger brother. Outwardly, she appears resilient and tenacious, but inwardly, she's losing hope.

Enter Will Cooper: The attractive, 21-year-old new neighbor with an intriguing passion for slam poetry and a unique sense of humor. Within days of their introduction, Will and Layken form an intense emotional connection, leaving Layken with a renewed sense of hope.

Not long after an intense, heart-stopping first date, they are slammed to the core when a shocking revelation forces their new relationship to a sudden halt. Daily interactions become impossibly painful as they struggle to find a balance between the feelings that pull them together, and the secret that keeps them apart.
Verdict: Keep
Start Where You Are by Pema Chodron
Nonfiction; Spirituality; Buddhism
added August 12, 2012
Start Where You Are is an indispensable handbook for cultivating fearlessness and awakening a compassionate heart. With insight and humor, Pema Chödrön presents down-to-earth guidance on how we can "start where we are"—embracing rather than denying the painful aspects of our lives. Pema Chödrön frames her teachings on compassion around fifty-nine traditional Tibetan Buddhist maxims, or slogans, such as: "Always apply only a joyful state of mind," "Don't seek others' pain as the limbs of your own happiness," and "Always meditate on whatever provokes resentment."

Working with these slogans and through the practice of meditation, Start Where You Are shows how we can all develop the courage to work with our inner pain and discover joy, well-being, and confidence.
Verdict: Remove
Living a Beautiful Life by Alexandra Stoddard
Nonfiction; Self-Help
Added August 12, 2012
With the publication of Living A Beautiful Life, Alexandra Stoddard originated the idea of creating an atmosphere of beauty and tranquility with simple touches that turn the ordinary into the extraordinary. As a world-famous interior decorator, she has worked her magic on interiors large and small, from mansions and embassies to cottages and studio apartments. Through her writing and lectures, she has encouraged millions to brighten their lives and their homes by turning mundane tasks into small pleasurable rituals that add beauty and joy to everything they do. Alexandra Stoddard's secrets of Living A Beautiful Life are yours.

Verdict: Remove
Loving Summer by Kailin Gow
Fiction; Romance; Young Adult
Added August 12, 2012
Summer has always looked forward to spending her summers at her Aunt's beach house with the Donovans. To her, summers at Aunt Sookie's beach house was magical, especially getting to spend time with the Donovans – her best friend Rachel and Rachel's brothers Nathaniel, and Drew. Here at Aunt Sookie's beach house, they can be anyone and anything they dreamed. For Summer, she had always wished to become as pretty as Rachel and for her brothers to think of her as more than Rachel's friend. For Nat and Drew, summers at Aunt Sookie's beach house meant fun and escape, a place where they go to with their mom and sister for the summer, away from city life. They never thought this summer would be different. They never thought things would change as much as they did…and it all began with them falling for and loving Summer.

Sounds like any other summer teen beach series? Guess again, Loving Summer is about a young woman who begins her journey into discovering love through trial and error, heartbreak, and loyalty to discover her strength to love.
Verdict: Remove
Wrangled Hearts by T.D. Jones
Fiction; Romance; Western
Added August 12, 2012
Clara Rhodes has been the star of day time TV Sunset Rose for over fifteen years. She's giving it all up to go home to Pickett, Texas to be with her dad who's dying of cancer. As she's losing one man she loves, her heart opens up to a new man she thought she could never love. Clara soon realizes home is where her heart is.
Verdict: Remove
The Joy of Less by Francine Jay
Nonfiction; Self-Help
Added August 16, 2012
Having less stuff is the key to happiness.

Do you ever feel overwhelmed, instead of overjoyed, by all your possessions? Do you secretly wish a gale force wind would blow the clutter from your home? If so, it's time to simplify your life!

The Joy of Less is a fun, lighthearted guide to minimalist living. Part One provides an inspirational pep talk on the joys and rewards of paring down. Part Two presents the STREAMLINE method: ten easy steps to rid your house of clutter. Part Three goes room by room, outlining specific ways to tackle each one. Part Four helps you trim your to-do list and free up your time, and explains how saving space in your closets can save the planet.

Ready to sweep away the clutter? Just open this book, and you'll be on your way to a simpler, more streamlined, and more serene life.
Verdict: Remove
The Fifth Victim by Beverly Barton
Fiction; Romantic Suspense
Added August 16, 2012
Some things shouldn't be seen…
Cherokee Pointe, Tennesee. Deep in the Smoky Mountains, the victim lies, sacrificed on a makeshift altar—the gruesome work of a killer who has evaded the authorities in state after state. FBI agent Dallas Sloan knows the scene all too well—just as he knows the killings won't stop until there are four more bodies…

Some warnings won't be heeded…
Genny Madoc's "sixth sense" has brought many of Cherokee Pointe's residents to her isolated log cabin, looking for help from the disturbing visions she sees—images that are getting stronger and more violent day by day…

Some fears can't be stopped…
Thrown together by necessity, drawn to each other by desire, Dallas and Genny must band together, searching the darkest heart of a town's hidden secrets before a twisted killer can complete a sinister plan that will make one of them the fifth victim…
Verdict: Remove
This week's stats: Keep 3; Remove 7
2018 stats: Keep 31; Remove 79
**All covers link to Goodreads; all titles link to Amazon {affiliate}