In mid-2017 I was inspired by a post on Bursting with Books to start tackling my TBR shelf on Goodreads and see if these were books I still wanted to read. The title and premise come from Lost in a Love Story. I eliminated quite a few books, but still have a massive TBR of over 2500 books. This year I'll be tackling 10 books per week to determine if I am still interested and want to keep them, or if I'm ready to remove them from the list.
How does it work?
Go to your Goodreads to-read shelf.
Order on ascending date added.
Take the first 5 (or 10 if you're feeling adventurous) books
Read the synopses of the books
Decide: keep it or should it go?
This week's selections:
The Scent of Water by Naomi Zacharias
Nonfiction; Religion
Added April 22, 2012
Follow Naomi as she talks to women working in brothels in Mumbai; survivors of an Indonesian tsunami in which more than 160,000 lives were lost; a young girl waiting on an operation to save her life; and victims of domestic violence horrifically burned by fire. Be still with her when she realizes the pain she feels in the face of these extreme injustices reveals a common struggle that exists within all of humanity. And rise with her as she wrestles with confusion over her identity, comes face to face with redemption, and then begins to understand her own story and to find her calling.

The Scent of Water will open your eyes to the complexities of the world, showing you pain can also be beauty, and how each are found in the unlikeliest of places. Zacharias doesn't have all the answers. But she has hope and encouragement that will empower you to find and begin the adventure of your life.
Verdict: Remove
The Bliss Experiment by Sean Meshorer
Nonfiction; Spirituality; Self Help
Added April 22, 2012
HAPPINESS IS GOOD. BLISS IS BETTER.

We have a higher standard of living and more ways to instantaneously fulfill every desire than ever before. Then why are we unhappy? Because happiness isn't what we really want. Happiness alone is fleeting and not deeply transformative. Bliss is a spiritual state where happiness, profound meaning, and enduring truth converge. With bliss comes an unshakable joy, a practical wisdom, and a lasting solution to our personal and planetary sufferings.

Based on a successful seminar taught by Sean Meshorer, a leading spiritual teacher and New Thought minister, The Bliss Experiment contains dozens of stories of real people learning from everyday situations, backed by more than five hundred scientific studies. This is the one essential book that distills and unifies seemingly competing practices, philosophies, religions, and psychologies. Meshorer includes exercises that have worked time and again for people from all walks of life—including him. Meshorer suffers with severe chronic pain and is able to live his life to the fullest through the practices he shares here.

Bliss helps with stress, anxiety, and depression. It makes people more successful, better able to see and seize opportunities, and build or improve relationships. Give these ideas and practices twenty-eight days of dedicated attention and you will see results. You only need a moment of bliss to benefit the rest of your life.
Verdict: Remove
I Never Promised You a Goodie Bag by Jennifer Gilbert
Nonfiction; Memoir
Added April 22, 2012
I Never Promised You a Goodie Bag is a warm, wise, and wholly original memoir of survival, renewal, and transformation, by one of New York City's most successful and respected special events coordinators.

With her top-level events company, Save the Date, Jennifer Gilbert has worked with Fortune 500 companies, broadcast media giants, international nonprofit organizations, and celebrities from Oprah Winfrey to Bill Gates and beyond. Yet few of her clients or colleagues have known, until now, that Jennifer not only a self-made success: she's also a survivor. After a random, near-fatal attack left her body in critical condition on a crowded city street, and left her with emotional wounds that would take years to heal, Jennifer embarked upon a journey to reclaim her life.

This is her story, in her own words: I Never Promised You a Goodie Bag, an intimate, poignant, inspiring memoir of perseverance, rediscovery, and hope.
Verdict: Keep
The Summer of Living Dangerously by Julie Cohen
Fiction; Chick Lit
Added April 22, 2012
Alice Woodstock has her life under control. She's successful and she's happy – as long as she continues to ignore the hurt from her past. But when said past walks back into her life in the shape of Leo – the man she married too young, ran away to Paris with and who ultimately broke her heart – Alice is desperate for an escape route. She finds the perfect thing – a new job as a tour guide in a Regency stately home. But as she immerses herself in acting out the stories of the house, Alice begins to see parallels with her own life, forcing her to confront her feelings about what she wants and, finally, live in the real world.
Verdict: Remove
True Love Way by Nancy Scrofano
Fiction; Chick Lit
Added April 22, 2012
Marlo Spencer relishes all things retro. Old TV shows, classic movies, and even the collectible lunch boxes to go with them. In fact, she's quite cozy in her Malibu apartment, surrounded by her treasured knick-knacks and vintage memorabilia. It's her best friend, Nik, who doesn't get her fascination with all that "old junk," as he calls it. He especially doesn't understand why she's so keen to get back to their hometown of Napa when her high school sweetheart, Josh, suddenly returns after twelve years in Paris and nary a single phone call, eager to reunite with her. So, when Marlo heads up north to wine country to rekindle her relationship with Josh, Nik tags along, claiming he was already planning to visit his sister, Savannah, Marlo's gal pal. Once they reach Napa, however, dreams of a blissful reunion are shattered as old secrets and past betrayals are revealed, leaving an unsuspecting Marlo to pick up the pieces. Can she forgive and forget, or will true love find a different path to her heart?
Verdict: Remove
The Provence Cure for the Brokenhearted by Bridget Asher
Fiction; Chick Lit; Romance
Added May 7, 2012
Brokenhearted and still mourning the loss of her husband, Heidi travels with Abbott, her obsessive-compulsive seven-year-old son, and Charlotte, her jaded sixteen-year-old niece, to the small village of Puyloubier in the south of France, where a crumbling stone house may be responsible for mending hearts since before World War II.

There, Charlotte confesses a shocking secret, and Heidi learns the truth about her mother's "lost summer" when Heidi was a child. As three generations collide with one another, with the neighbor who seems to know all of their family skeletons, and with an enigmatic Frenchman, Heidi, Charlotte, and Abbot journey through love, loss, and healing amid the vineyards, warm winds and delicious food of Provence. Can the magic of the house heal Heidi's heart, too?
Verdict: Remove
Logan by Linda Lael Miller
Fiction; Romance
Added May 7, 2012
Descendants of the legendary McKettrick family, the Creeds are renowned in Stillwater Springs, Montana–for raising hell…After years of wandering, Logan Creed, a cowboy with a dusty law degree, has returned home. To put down roots, to restore his family's neglected ranch…to have kids of his own proudly bearing the Creed name.

Divorced mom Briana Grant has heard the stories about her gorgeous neighbor. So Logan's kindness with her young boys is a welcome surprise, especially when her ex reappears. And when an unknown enemy vandalizes her home, Logan shows Briana–and the folks of Big Sky country–just what he's made of.
Verdict: Remove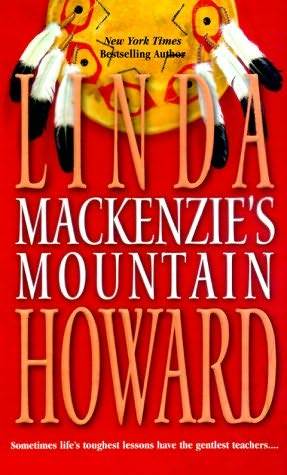 Mackenzie's Mountain by Linda Howard
Fiction; Romance
Added May 7, 2012
A small Wyoming town is about to learn a few lessons from a new schoolteacher with the courage to win the heart of a man who swore he had nothing to give….

Mary Elizabeth Potter is a self-appointed spinster with no illusions about love. But she is a good teacher and she wants Wolf Mackenzie's son back in school. And after one heated confrontation with the boy s father, she knows father and son have changed her life forever.

Still paying for a crime he didn't commit, Wolf Mackenzie has a chip on his shoulder the size of Wyoming. But prim-and-proper Mary Elizabeth Potter doesn't see Wolf as the dangerous half-breed the town has branded him. Somehow she sees him as a good, decent, honest man. A man who could love…

Wolf's not sure he or the town of Ruth, Wyoming is ready for the taming of Wolf Mackenzie.
Verdict: Remove
Heartbreaker by Julie Garwood
Fiction; Romantic Suspense
Added May 7, 2012
In the still shadows of the confessional, a madman tauntingly reveals his plan for a murder he is going to commit, pulling Father Thomas Madden into a twisted game by disclosing his next intended victim: Tom's sister, Laurant. In a frantic race to protect her, Tom calls upon his best friend, elite FBI agent Nick Buchanan, to track the predator who is closing in on Laurant. Now, as an electrifying attraction grows between Laurant and Nick, so does the danger — and one false move will cost both of them everything that matters.
Verdict: Remove
The Art of Racing in the Rain by Garth Stein
Fiction; Contemporary; Animals
Added May 7, 2012
Enzo knows he is different from other dogs: a philosopher with a nearly human soul (and an obsession with opposable thumbs), he has educated himself by watching television extensively, and by listening very closely to the words of his master, Denny Swift, an up-and-coming race car driver.

Through Denny, Enzo has gained tremendous insight into the human condition, and he sees that life, like racing, isn't simply about going fast. On the eve of his death, Enzo takes stock of his life, recalling all that he and his family have been through.
Verdict: Keep
This week's stats: Keep 2; Remove 8
2018 stats: Keep 9; Remove 21
**All covers link to Goodreads; all titles link to Amazon {affiliate}