So I have been checking out the different challenges that have been posted for 2017 and choosing the ones that I want to participate in. I am sure that there are many more that I have not seen posted yet, but here are the ones I have chosen to participate in so far…
The 2017 New Release Challenge hosted by (un)Conventional Book Views and Books, Movies, Reviews! Oh My!
Books have to be released and reviewed in 2017.
Other challenges can be used as well, if you are participating in the Netgalley / Edelweiss challenge or in the COYER challenge, books can count towards more than one challenge, as long as the ones you use for the 2017 New Release Reading Challenge qualify to the other rules.
The minimum length for a book to qualify is 100 pages, it can be in any format though, physical, e-book, ARC or audiobook.
The New Book Release Challenge is open from January 1st through December 31st 2017, and sign-ups are open until February 15th 2017.
You don't have to be a blogger to participate, you can link to your review on Goodreads or Booklikes instead – so don't be shy!
I will be participating in the New Release Newbie category of 1-30 books. I plan to read at least 12 new releases in 2017 (I have a LOT of backlist books in my TBR right now).
The Full House Reading Challenge hosted by The Book Date
Challenge Guidelines:
Challenge will run from Jan 1st to December 31st 2017
Write and publish a post stating your intention to participate. In the post please include the Challenge graphic and a link back to the challenge post. Then link your intention post.  Make sure it is the actual post and not just a generic link to your blog.
Add your reviews back here on the link in this post. There will be a new linky then for the next quarter and so on to the end of December.
Reviews are not mandatory and if you prefer to keep a list of the books read and the category they cross off the card, then you can still enter for the completion of a Full House by linking to that list on the final linky or in a comment. The list could be kept on somewhere like Goodreads or in a Google doc.
I don't know that I have ever read a Western, so that category could be fun. I also don't normally read mysteries. I love that this challenge will push me to try some books that aren't normally on my TBR. And I'm looking forward to re-reading a book from my childhood… I just have to pick which one!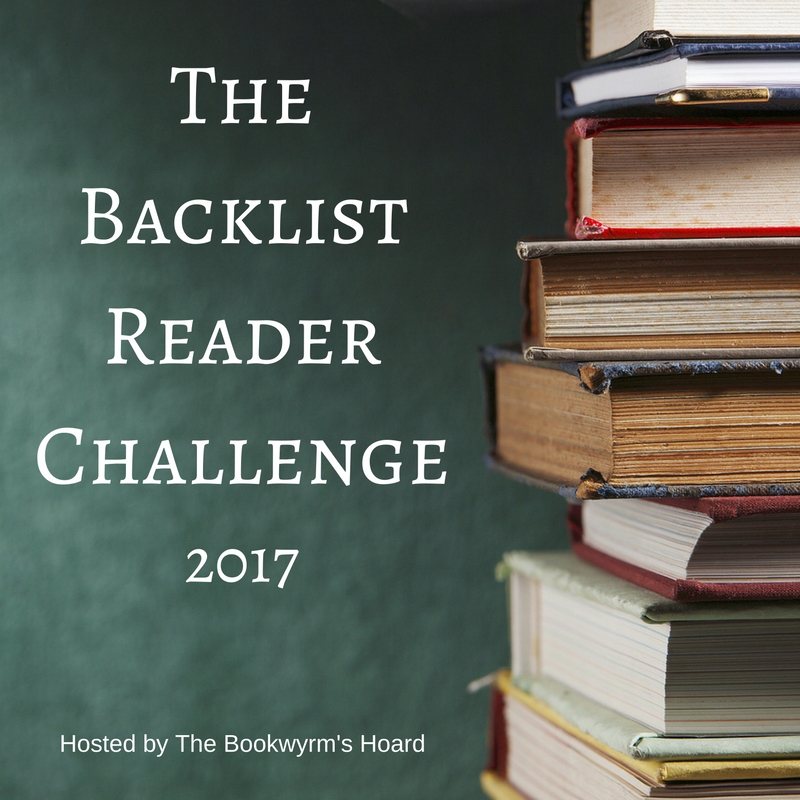 The Backlist Reader Challenge hosted by The Bookwyrm's Hoard
The rules are pretty simple. Only (1) and (2) are mandatory.
(1) To count for the challenge, books have to be published before 2016 AND be on your TBR list or pile.
(2) Create a goals or sign-up post on your blog. Then link your sign-up post.
(3) Review the books you read, and post the links on the review linky. 
(4) On or after the end of the year, post a wrap-up post.
I have mostly backlist books on my TBR, so I'm planning to get through a minimum of 36 backlist books in 2017. I have several series I want to complete, so I will probably be starting with them, then moving on to others that have been on my shelf for years.
And of course, the Goodreads 2017 Reading Challenge
They haven't opened the 2017 challenge on Goodreads yet, but I am planning to join in again this year. My goal is nowhere near as ambitious as last year, considering I read almost all of my 120+ books before I started working again. I plan to set my goal at 60 books for 2017.
While overall I will be reading less books (most likely) in 2017 than I did in 2016, I would still like to find a couple more challenges to participate in… I'm looking additional challenges around new authors, series, and e-readers specifically, but am open to other reading challenges as well. If you've seen any you think I should check out, please let me know in the comments below!