Over the last year, I discovered that I love participating in memes! But I participate in so many memes that the number of meme posts could be overwhelming each week. This year I decided to break my memes up group like memes together. Some of my favorite memes share quotes, so I've put together one post each week for all of my quote memes. Click on the logo for each meme to be taken to the host's blog.
This week I am featuring quotes from Morgan Matson's Since You've Been Gone.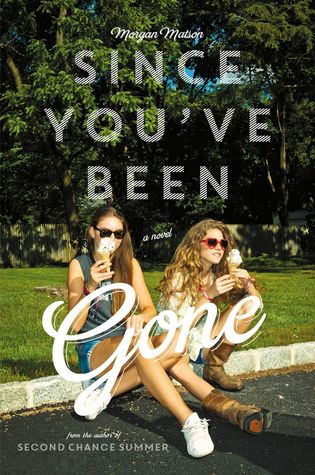 Join Rose City Reader every Friday to share the first sentence (or so) of the book you are reading, along with your initial thoughts about the sentence, impressions of the book, or anything else the opener inspires.
The list arrived after Sloane had been gone two weeks.
What list? And where did Sloane go?
Rules:
*Grab a book, any book.
*Turn to page 56 or 56% in your eReader
(If you have to improvise, that's ok.)
 *Find any sentence, (or few, just don't spoil it)
*Post it.
*Add your (url) post to the Linky on Freda's Voice.
*It's that simple.
I kept the Volvo's light off until I reached the street, even though the curtains in my parents' study were drawn. And once I'd made it down my street without my cell lighting up with calls and texts asking me where I thought I was going, I figured that I was in the clear.
The idea of this feature is to share a quote with food or drinks that showed up in a recent read, as well as if it's something you think you'd like or not. Please share the title of the book it happened in, as well as the character who ate or drank the special little something you discovered between the pages of a good read. Each week there is a link-up at (un)Conventional Bookviews for the current post so that it's easy to find other participants as well.
It was months away from being apple season, but I was hoping there would be a few. The apples I did see looked like the tiny, sour ones, and I had resigned myself to one of these when I spotted one, just a little out of reach. It wasn't as big or perfectly formed as a supermarket apple, but it was the best one that I could see. I grabbed it, and made sure to hold on to the ladder with my other hand as I gave it a hard yank. It came free of the tree, and I polished it on my tank top before I turned around and leaned back against the top step. Then, making sure I was balanced, I took a bite.
It wasn't bad. It wasn't quite ripe yet, but it wasn't bad. And it really was pretty up here– maybe Beckett was onto something after all. I leaned more fully against the ladder and looked out at the view as I ate my apple, slowly, in the moonlight.